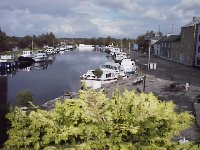 Info - Clondra is a small waterside village nestled just off the main N5 from Longford to Castelbar and situated on the banks of the rivers Shannon and Camlin. At its heart is Richmond Harbour, the terminus of the Royal canal.. This village encapsulates a genuine atmosphere of river holidays, with Richmond harbour which is always busy with boats and cruisers from the Shannon. The village is a crossing point from the Royal Canal and the Shannon river. The Royal Canal never managed to attract the traffic of the Grand canal, and was eventually closed to navigation in 1961. There is an active campaign supporting the reopening of the Royal Canal, although this is hindered by by a number of culvert bridges on the western end. Access to Clondra from the river Shannon is via canal from the small lake downstream of Tarmobarry lock.
History - Richmond harbour in Clondra was named after the the Lord lieutenant of the day who officially opened the canal in 1817. The canal had taken 28 years to complete, and cost more than twice as much per mile than the Grand canal. An old abbey dating from the 12th century stands beside the present church and two gravestones from the 5th century are located beside the church. This was originally the site of and early monastery and hospice. There was a distillery here in the early nineteenth century which produced 70,000 gallons of whiskey each year and employed 70 people. It later became a corn mill. The old corn mill, now a tannery has provided employment for more than 200 years and its produce was shipped from Richmond Harbour by barge to major towns and cities. The harbour was also the embarkation point for passengers emigrating to America during famine times.

Our Bit - Clondra or Richmond Harbour as it's also known lies on the river Camlin. There is a loop which it is possible to take from Shannon above Tarmonbarry back to the Shannon below the lock at Tarmonbarry.
It is however fairly narrow and given the size of our boat and the height of the river we did not attempt it. Beware however there is little mooring available there unless you go into the Harbour itself (via a lock) and this appeared to be entirely private. The Harbour also provides access to the canal system which eventually leads to Dublin and has recently been opened.
If you don't arrive by boat via the Camlin, it is well worth the walk from Tarmonbarry to the very picturesque Richmond Harbour. It is roughly a mile and half and you will certainly need torches if returning after dark as there is no lighting from streetlights or houses on the way.