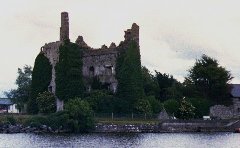 Info - Dromineer is a popular village with anglers and sailing enthusiasts alike, and there's always a good cross section of water sports enthusiasts here in the Summer months. It was always an important river port, and the castle quay was built in the early nineteenth century. Dromineer is also home to Lough Derg Yacht Club, one of the oldest yacht clubs in the world. This village is a very popular spot for tourist, and the quay is well equipped with developed piers and a children's playground.

History - There is a traditional story in the village that some of the monks from Iniscealtra came here in the twelfth century to found a settlement, but that it never developed and the only evidence of this is a small ruined Romanesque church in the old graveyard. The history of the castle is somewhat uncertain, but it was probably built sometime in the sixteenth century by the Cantwell family, who were tenants of the earls of Ormond. The castle was taken in the mid seventeenth century by Cromwellian forces and subsequently returned to the Duke of Ormond.

Our bit - Dromineer is the first real stopping point on Lough Derg after Terryglass. There are two harbours, Williamstown and Dromaan on the west side of the Lough but neither of these appears to have any local services.
The large harbour is dominated by an impressive ruined castle. Despite the harbour's size we had trouble finding a mooring on the first visit.