Info - Dromod is a small village built along the River Shannon and on the main N4 Dublin to Sligo road. Just three kilometres from Roosky and ten kilometres from Carrick on Shannon, this small village is a stopping point on the Dublin Sligo railway line and is ideally situated. A short walk from the main road will bring you to Dromod harbour, a lovely harbour area which is very popular with cruiser traffic located on the shores of lough Bofin. Many cruisers and barges will stop and stay for the hospitality of this village. There are some excellent pubs and restaurants.Loughs Bofin and Boderg and Kilglass Lake in the area are renowned wildfowl sanctuaries and Derrycarne Wood, 3.5km North of Dromod features some lovely walks. The Cavan & Leitrim Railway Museum is a big attraction in the village, it offers short steam train journeys and a history of the old narrow gauge railway system that ran through Cavan and Leitrim. The Bog Oak water feature in the centre of the village is entitled "The Weeping Tree' and was made by a local craftsman from a piece of bog oak which was found nearby.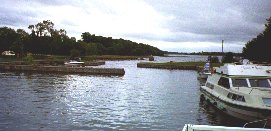 History - Derrycarne narrows (derraigh carn - the wood of the cairn) seperate lough Bofin from Lough Boderg and was an important crossing point in the past. A communal grave was built for the dead from a battle between the Williamite forces and Sarsfields army, but it's believed that the cairn that gives the area its' name pre-dates this battle.
It would seem that Dromod was always a popular stopping point on the Shannon, poised as it is between Lough Bofin and Lough Boderg. The original harbour was built in 1829 at a cost of £139. At that time there was a small store and a crane for lifting goods. The Board of Works lowered the walls of the old harbour to accommodate modern cruisers, and a new harbour has been constructed to cope with the increase in traffic.
Our bit - Dromod is an essential stop over point. Lying as it does to the north of Rooskey it is the first mooring before the bridge at Rooskey. The harbour was crowded on the Sunday evening we arrived (the picture comes from later in the week) and the narrow twisting entrance to the harbour makes a difficult approach for a large boat. However the effort is well worth it with nearby bars and restaurants providing excellent food.