Info - The Town of Athlone is recognised throughout Ireland as the biggest town nearest the centre of Ireland. The town is situated almost halfway between the countries two major cities, Dublin and Cork, and has always been an important crossing point on the river Shannon.
Athlone is one of the biggest towns on the Shannon River, and as such has a great deal to offer. There is a wide variety of pubs and restaurants to choose from, as well as major department stores and fast food outlets. Despite the rapid expansion of this bustling town, it has managed to retain its' old world charm within the narrow streets.
Athlone is at the foot of Lough Ree, one of the biggest lakes to be crossed while cruising the Shannon, and as such offers a wealth of water related sports and activities.

History - The name 'Athlone' is derived from the Irish 'Ath Luan' , which means 'The Ford of Luan'. According to the story, a man called Luan kept a hostelry here and acted as a guide to travellers who needed to cross the wild currents of the river.
Due to its location in the centre of Ireland, Athlone has always been of great strategic importance and has always housed a garrison of some sort. The current garrison is known as Custume Barracks, and was built in the 1690s. The original wooden fort at Athlone was replaced in 1210 by the Normans, and the town walls were built in 1257. The town was the scene for many fierce battles, and the walls and castle have been partially destroyed and rebuilt many times over the years, although there is little evidence remaining of the town walls.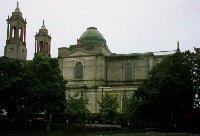 Our bit - As Athlone is the largest town on the Shannon I've listed the pubs according to which side of the river they are on. The main part of Athlone is on the East side of the Shannon and all pubs here are on or around the main road which also contains many shops.
The Cathedral pictured here should really be on the West Athlone page as it is on the west bank of the Shannon , but the older part of the town is more photographic and the picture was taken from the east side, well that's my excuse anyway. The main reason there is so many pubs listed in Athlone is due to the fact we spend four nights, one in 1999 and three in 2000 when we picked up our boat from Athlone Cruisers at the Jolly Mariner Marina in 1999 and our Emerald Star from Portumna in 2000.