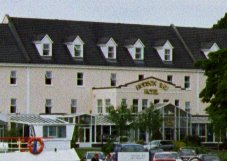 ● The Hodson Bay Hotel is a slightly strange addition to these pages as most of the other bars featured here are 'proper' bars. However we did stop here as we where in Athlone a day early and decided to explore the southern end of Lough Ree.

We where however pleasantly surprised by the hotel. The bar lies to the left of the main entrance and runs across the entire front of the hotel. It also serves as a restaurant but the food that was being served was the standard carvery hotel food, left warming under infra red lighting which personally I would avoid. The bar was extremely comfortable being more like a bar than a hotel. The other big surprise was the price of the drinks, they where the same as everywhere else, a pleasant shock as we were expecting a price hike as this was a hotel.
The Hodson Bay Hotel was an enjoyable diversion for an afternoon drink. It could also prove a pleasant stop for an overnight mooring, and would certainly be much quieter than mooring in nearby Athlone.

June 2000

Recently Refurbished (2004)
Updates: July 2008.