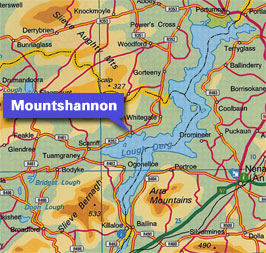 This attractive village is beautifully situated on the high ground overlooking Lough Derg. It is an example of a typical landlord's village of the 18th century. Always a top class fishing centre, Mountshannon became a popular sailing centre following the reconstruction of the harbour. It is now one of the principal stopping places on the lake for hire cruisers and other boats.
Holy Island (Inis Cealtra - Island of the burial ground; or Island of monastic cells)
Situated at the mouth of Scariff Bay on Lough Derg, Inis Cealtra is one of the most famous monastic sites in Ireland. It's many attractions include a well preserved Round Tower, the ruins of six churches and a cell like structure which is one of the most extraordinary buildings in Ireland. Boats to Holy Island are available at the harbour, as no moorings are available for private craft at the island.
The Aistear Iniscealtra project was officially opened in 2000. It tells the story of Irish spirituality over 9,000 years.

Mountshannon lies near the south western end of Lough Derg. The large and well equipped harbour lies in a sheltered area of Lough Derg. Care should be taken while approaching the harbour as there are several small Islands around the Harbour. One of which, Holy Island contains remains of an ancient monastery which looks similar to the ruins found at Clonmacnois. From the harbour a road climbs up the hill to the main village.