Info - Portumna is a medium sized town in County Galway on the border with County Tipperary. You can find just about anything you might need in this town and there are many fine pubs and restaurants. The harbour on Lough Derg is at the boundary of Portumna forest park, 1500 acres of parkland with rich natural flora and fauna.
History - The name Portumna is derived from the Gaelic 'Port Omna' which means the crossing of the tree trunk. The Castle and estate in Portumna were originally owned by the Clanricard family, who were descendants of the de Burghs of Normandy granted extensive lands in Connaught in the thirteenth century. The castle was originally built in the seventeenth century by the fourth earl and was tested in the confederacy wars in 1651.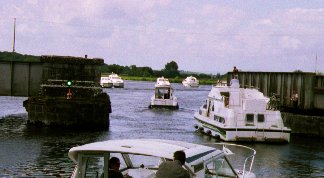 Our Bit - Portumna is situated at the Northern end of Lough Derg. It can also be a forced stopping point due to Portumna Bridge which is so low that it will need to be opened for all boats. There is limited mooring to the south of the bridge and an Emerald Star marina immediately to the North. If travelling North up Lough Derg and you won't make it through the bridge there is mooring at Portumna Castle harbour which is on the northern shore of Lough Derg.

Whatever mooring you choose there is a long walk (at least a mile and half) from the moorings to the main village of Portumna. There is however a pub on the East side of the Shannon just over the bridge in a village called Portland, it is visible from the mooring at the bridge but we haven't visited it yet.

Portumna was the starting off point for our 2001 and visit. So as we revisited a few of our favourite haunts and added a new one to the list, these are by no means the only bars in Portumna but these are the one I've visited. The updated picture of Portumna bridge shows the Sunday rush hour of boats trying to navigate through the bridge for the 11:00 opening. We were one of the last boats going through travelling south and most of the boats beyond the bridge are waiting to come through. Motorists should avoid the area around the times of the opening as it could involve a long wait.