Info - Scariff is a small village on the river Scariff, just off Scariff bay on Lough Derg. The village was once an important market town, and today the market survives, and Scariff and the surrounding areas are renowned for the quality of the angling. Just a short trip downriver is the village of Tuamgraney, which can be reached by road or river.


History - The river was only navigable up to the shallows at Scariff until the Shannon Commissioners dredged the river and lined the banks in the eighteen forties. The village is closely linked to Tuamgraney, where Brian Boru, High King of Ireland is reputed to have carried our repairs to the church in the year 1000.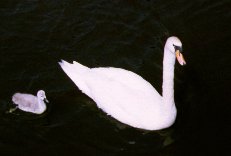 Our Bit - Scariff is as far as we can navigate on the River Scariff which drains into the southern end of Lough Derg. It lies a short drive along the Scariff from Tuamgraney and has far more mooring places than Tuamgraney, with more planned in the near future.
The quite meandering river very reminiscent of the Broads gives you a chance to see some of the wildlife with herons, swans and grebes being most common. The young signet pictured here was unusual as most of the others we had seen were much bigger.
The village lies a short walk away across a small bridge crossing the Scariff.