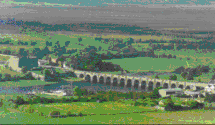 Info - The village of Shannonbridge is named after the bridge built in 1757 which spanned the river connecting county Offaly and county Roscommon. The village has recently run a small jazz festival, and a vintage car rally and a boat regatta stop in the village during the summer months. The village is close to Clonmacnois, a site world famous for the ancient monastic buildings found there, and is about 8 miles from the town of Athlone.
Shannonbridge has two major attractions – angling and ecology. The peat bogs which surround the village are home to an abundance of flora and fauna, and is preserved as a natural habitat to the now rare corncrake. Also along the river are eskers, which are winding ridges of raised ground caused by melting ice during the Ice Age and were used by early settlers to cross the river. The proximity to the peat bog influenced the building of Irelands largest peat burning power station at Shannonbridge.
History - It's said that the first town of Shannonbridge was built by the military to protect the ford in the river. The remains of the nineteenth century Napoleonic fortifications found at Shannonbridge are considered to be a unique example of fortifications of the period. They were completed in 1817 at a cost of £30,000. There was originally a lock here, but the Shannon commissioners decided to remove it and dredge a channel in the 1840's.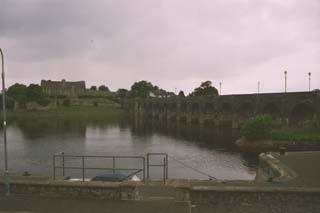 Our bit - Shannon Bridge is the first place to cross the Shannon south of Athlone, and more importantly the first watering hole if travelling by boat. The bridge is certainly high enough to allow all boats through but did have a swing bridge mechanism at one time which can still be seen next to the moorings below the bridge. There is limited mooring by the bridge, and additional mooring in a cut further down stream. This however does require a walk through the fields to reach the village. Anyone mooring here should ensure they have adequate lighting with them if they intend to use these moorings after dark.