Info - Terryglass is a beautiful little village on the shores of Lough Derg. Terryglass has an atmosphere all of its own, and is could be quoted as the definitive holiday village. There is a short walk from the village to the small harbour on Lough Derg, where there are always plenty of boats moored. Terryglass has won the national tidy towns competition on two occasions, and is a great place to relax and unwind, or perhaps take part in some water sports on the lake.
History - St. Colman founded a monastery at Terryglass in the sixth century which became an important centre for learning. The Book of Leinster was produced here, which contains tales and poems from the middle ages in Ireland, and can now be seen in Trinity College, Dublin. The Vikings frequently raided the abbey, and it was burnt to the ground in 1264. There is one remaining wall from the abbey in the village.
Our bit - Terryglass lies on eastern shore at the northern end of Lough Derg. There is a large sheltered harbour which proved to be a welcome sight to most of the boats that day. After leaving Portumna that mourning we were intending to head to the southern end of Lough Derg.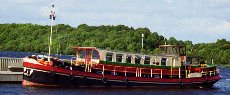 However the weather turned on us and despite being brilliant sunshine the wind was extremely strong and made the Lough fairly rough. We decided that we would head into Terryglass for lunch rather face a rough crossing of the Lough Derg, as the wind never died down that day we spent the entire day there. By the end of day boats where moored 3 deep in places in the harbour, and the large floating hotel which also arrived added to the congestion. This however did mean we were unable to explore further south as stronger winds where predicted for the following day so I will have to return to Ireland again to explore the south. The upside of all this was that we spent the day at Terryglass, an extremely pretty village over looking the Lough with the best pub we visited this year. (2001)