They say - A popular spot with anglers due to its location along the western shore of Lough Derg.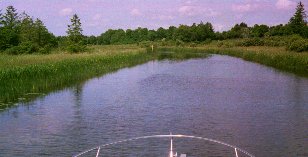 History - Claiming the oldest church still in use in Ireland and the United Kingdom, services are held on the last Sunday of each month in St. Cronan's Church which dates from 950 when it replaced a 7th century monastery. Also home to a folk museum collection collected by East Clare Heritage Centre. Novelist, Edna O'Brien, whose early work was banned in her native land, was born at Drewsboro House between Tuamgraney and Scariff.
Our bit - Tuamgraney lies on the Scariff between Lough Derg and Scariff village. It is the first moorings you come to on the Scariff but be warned there is only space for about 3 to 4 boats. The river is fairly narrow so double mooring is out of the question. If you want to visit Tuamgraney and there is no mooring available it can still be easily reached from Scariff which is about a 2km walk away.