These pages contain photographs of my various trips to Ostend (Latitude: 51.23116. Longitude: Lat: 2.91255). As these are normally 'boys outings' not too many photographs have been taken over the years. This I plan to remedy from now on (subject to censorship).
Amongst the many bars, most of which nearer the seafront are quite seedy, there are the odd gems and providing you are not 'mob' handed you will get a reasonable welcome. There are plenty of restaurants a lot with 'tourist' menus but if you try the ones where the 'locals' are you are in for a good meal. The seafront is still the place for excellent seafood, be it in the restaurants or from the stalls. 2004There is extensive rebuilding taking place in the area just behind the seafront, a lot of the old dilapidated houses and bars have gone, I'm just waiting to see what replaces it all. 2005Still not a lot happening on the building part of the site.


Over the weekends Ostend has a pretty huge market, taking up several of the plazas in the centre of town (cantered around the town hall), worth a look alone as the regular shops can be a bit expensive (especially clothing).

Carnival / Ball
Nightlife in Ostend reaches a peak annually with the Bal Rat Mort, a fancy dress ball held in the casino marking the high point of the widely celebrated local carnival. It occurs about the second week in March and can be well recommended (providing you can hold your drink!)
Where: Belgium (Ostend)
When: Normally the first weekend in March - next one is the 2nd March 2007- (Every year; Sat / Sun / Mon)
Cost: N/a
Opening Hours: almost 24 hours per day!

Beer Festival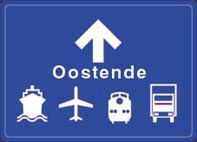 Also for the past 30 years, large, beer-hungry crowds have descended on the West Flanders town of Diksmuide for the beer festival, once held in a large beer hall (Boterhallen) on the main market square, now just a marquee, and set to a backdrop of music and dance. Originally with over 130 breweries and 400 types of beer, the small country of Belgium can claim to be the world's beer capital. This is an excellent opportunity to drink your way through a fair few of them. Having said this I have noticed over the past few years that the elaborateness of the occasion is, and the beers represented are, dwindling but maybe its still worth one more visit.....
Place: Belgium (Diksmuide)
When: 08 Oct 2007(Every year; nearest Saturday only)
Cost: Entry €3; drinks €1.25 or €1.75
Opening Hours: Sat 18.30 - 00.00.