Canon Negative Scanner - Photographic - Neils Resource Web
I, like probably most folk, have a stack of 'conventional' photographs (non-digital) scattered about the place. They were always going to take an age to scan in, and 'tidy up'. I bought this scanner back in 1999 and never really got into it, especially as it required a 'proper' computer to run it. My 486 was never really going to manage it, with only 128Mb memory and a 10Gb disk for storage. Today, my portable is better specc'd. This device is now back in business, big-time. It will still take ages to do the scans (800+ slides, and several hundred strips of negatives), but now I have the time and the software (Photoshop, Compupic Pro) to make it relatively painless. I've realised that this scanner is, still, up with the current crop of scanners, maybe not so 'automatic' but nevertheless the results are more than adequate for what I need. Check the rest of the web to see how it is still a useful bit of kit.

Links to other Sites

A collection of user reviews
Silverfast.com - Enhanced software (better than s/w included)
Canon.co.uk - Information.
No longer produced but still available on the web.
Current Canon s/w version is 3.6.6

Canon Canoscan FS2710
The superior quality film scanner with 2720 dpi CCD Image Sensor and 36-bit RGB Colour Scanning.
Software included cannot multipass or give longer exposures but there is compatible software that will. There is a newer software version to what came in the box (see above links).
Features
2720dpi ultra high resolution dedicated film scanning
36bit colour depth
Fast SCSI-2 interface for PC / MAC
35mm and APS film types supported as standard
Adobe Photoshop LE software included
APS film adapter included
SCSI-2 interface card for PC included
A film scanner with 2720 dpi resolution
The high quality scanning ability of the CanoScan FS2710 comes from its combination of high-resolution 2720 dpi CCD sensor, 36-bit colour depth and the 3.2D optical density range. With this combination the CanoScan FS2710 is able to extract the smallest details and broadest range of tones from your original film images, ensuring your digital output is of amazing accuracy. The CanoScan FS2710 has been designed to make scanning 35mm negative and positive films simple - mounted 35mm films can be placed straight into the scanner, and 35mm film strips fit in the supplied film strip holder. Unlike many competitive film scanners the CanoScan FS2710 also includes an APS adapter, enabling APS film to be scanned as standard.

The CanoScan FS2710 can scan 35mm negative and positive films in only 13 seconds and APS film at just 10 seconds per frame. Fast scanning is well matched by the scanners high speed SCSI-2 interface and standard Adaptec PCI SCSI card for transferring the images to the computer. The matching of high speed and high quality ensures maximum productivity.

The standard CD-Rom supplied with your scanner includes all the software required for getting started. For Windows users the Adaptec PCI SCSI card is truly plug-in and play, for Macintosh users the SCSI converter (included) makes connection as simple as plugging in the cable.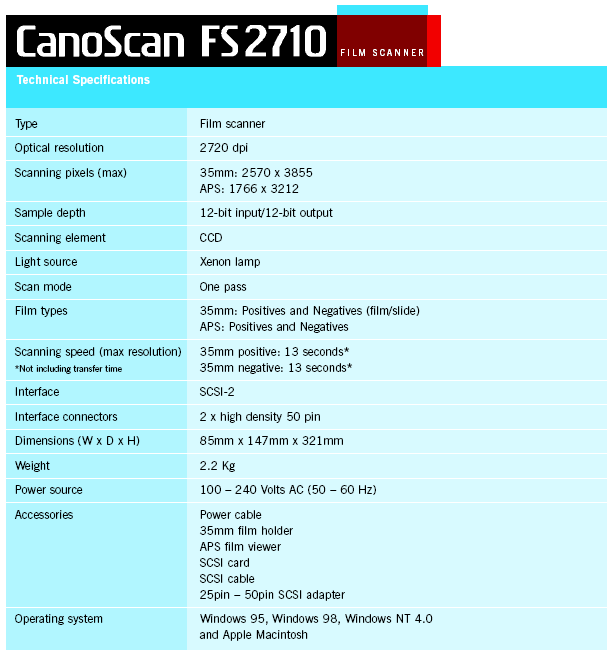 Hyperlink titles may have been abbreviated, (right click on the link and select properties for the full URL)


A double mouse click anywhere on the page will take you back to the top (except when over hyperlinks)
Last Updated 04/08/2008 - Canon Canoscan FS2710 - Photography - Home Kit - Neils Resource Web