Tip: See my new site LUZ-INFO.COM for a more developed version of this site.
Tip: Click on the

Praia da Luz

text above to hide this side menu or the

Praia da Luz

text to show this side menu.
Tip:

Double click anywhere on the page (except when over links) to return to the top of the page.

Tip:

For these tips and more detail click on the at the top of any page.
Tip:

See these pages now on their own new site

at

Luz-Info.com
Close
Updates to the Luz Pages
| | |
| --- | --- |
| 01/03/08 | Luz-info.com - My new site developing this section further. I will be maintaining this section's data for the foreseeable future. The new site will have priority. |
| 01/2008 | New Year visit updates |
| 12/2007 | Added a Supermarkets page for Luz & Lagos (off the Shopping page) |
| 11/2007 | General shops and bars updates from a recent trip. |
| 10/2007 | Developing an additional Shopping Page for goods unavailable in Luz. |
| 09/2007 | Added Map to Golfing and Things to do pages. |
| 08/2007 | Beaches page being developed. |
| 08/2007 | Added the Accommodation page. |
| 06/2007 | Developing the Property page. |
| 03/2007 | Developing a second Golf page of useful site links. |
| 02/2007 | More Nearby Places added. |
Technical Updates to the Luz Pages
01/2008
Added a browser resize option to maintain 'standard' view on widescreen monitors.
Also added a text resizing option ( See the Page Help for details. )
12/2007
Several additional Google Maps added.
Added a collapsing menu option to all pages (See the Page Help for details).
Also some cosmetic changes.
09/2007
Added Map and Page Help drop down boxes.
08/2007
All of the main GMAPEZ Maps re-worked for 'improved' access.
08/2007
Removed the scroller (it was getting annoying) and replaced it with this drop down. Also this is more code friendly.
03/2007
A rework of the layout including the menu, hopefully a better read.
11/2006
Have you put the mouse pointer over the street map lately?
03/2006
Enlarged photographs appear on the same screen when Click on a thumbnail for enlargements that automatically re-size to suit your browser. Click on the enlargement to return to main screen.
02/2006
Added enhanced tooltips to the menu and photographs
General Page Help
Showing the Main Menu
Click on the 'Praia da Luz' text in blue to reveal the Main Menu
Click on the 'Praia da Luz' text in red to hide the Main Menu
Navigation:
Double Click anywhere on the page ( except when over the menus or other links ) to return to the top of the page.
Links:
Links to other pages are shown in

blue capitals

Photographs:
Click on any thumbnail sized photographs for larger images.
Some of the larger images may be expanded even further, look for an icon at the top, left corner of the expanded image.)
Click anywhere on the larger image to close it and return to the thumbnail view / page.
Browser Window Size:
This Site is best viewed at a browser window size of 1024 x 768 (i.e., not really suited to widescreen displays)
If you wish you can resize THIS browser window to: 800 x 600 / 1024 x 760 / 1280 x 1024 which will maintain the 'standard page' layout on a widescreen display.
Text Sizing:
You can adjust the size of the text using the links below or by using the or buttons wherever they are located on the main page content.
Any changes are not permanent and do not carry forward to other pages viewed.

Email this page: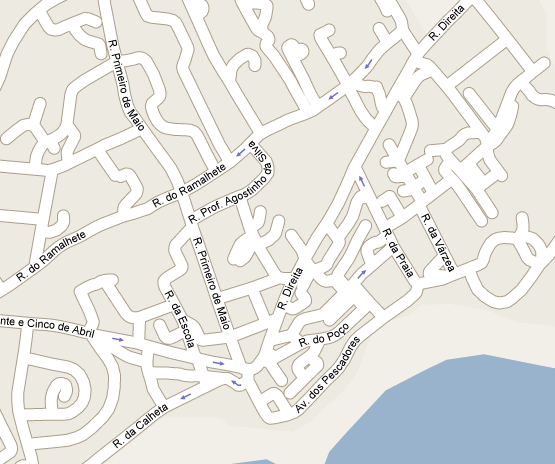 ( "Beach of Light" ) Like most towns on the Algarve coast it was originally a fisherman's village and even though today it has grown into a popular seaside resort it still manages to retain a lot of its old world charm.
The bay is protected to the East by the famous Rocha Negra ( "black rock" ) cliff, a product of the Monchique region's volcano lava flow from some 150 million years ago. To the West is the old 16th century fort built to ward off pirates but now is a smart restaurant which has some spectacular views from its terraces.
Between the two is the lovely, long sandy beach which is overlooked by the town itself. An exceptional patterned cobbled promenade ( Avenida dos Pescadores ) runs from just below the pretty Church of Nossa Senhora da Luz ( Our Lady of the Light ) along the whole of the seafront to the cluster of beach bars. The promenade is normally busy with many craft stalls during high season and there are also several cafe / bars, restaurants and gift shops.
You will find that the town of Praia da Luz is a lot quieter and more peaceful than many of the other coastal resorts on the Algarve, such as nearby Lagos or Alvor which is some 30 minutes away, so it is perfect for family holidays or just a relaxing break. Mind you if it is a lively time you are after or just a temporary change of scenery you can always head over to the large town of Lagos for the day or an evening, it is just a 10 minute bus or cab ride away.


"

.....a fair bit quieter and more tranquil than most other holiday resorts on the Algarve....

"


- 04 July 2005Normally the holiday resorts on the Algarve pretty much close up at the end of the summer season but as Praia da Luz has quite a large population of resident English people, several of its restaurants and bars stay open all the year round, though you will find their opening hours are much reduced ( generally from the beginning of October through to about the end of March ). You will also find some of the restaurants alternate their opening days with others which whilst being more economical for them it also ensures somewhere will always be open. A stay over the winter period in Luz is quite popular and the Christmas and New Year festivities are normally well catered for, especially at the the larger hotels and holiday complexes. Remember that wintertime on the Algarve doesn't get cold ( other than at night ) it just tends to rain a bit more.
Even if your holiday is not based in Praia da Luz, a day trip to visit is certainly worthwhile and I am sure will convince you to return for a longer stay.




Luz's major highlight of course is it's wonderful beach. The long expanse of gentle sloping sand and its shallow waters are ideal for children, and it is safe with lifeguards on duty throughout the summer months ( having attained a Blue Flag standard since 2005 ). Be careful though as those warm sea breezes are masking the fact that you are being subtly being incinerated by a ferocious sun.
You will find there are good water sports facilities in Luz, such as scuba diving, snorkelling, waterskiing, windsurfing, a sailing school, paddleboats and boat trips.
Also there is excellent if challenging fishing to be had from the extensive rock formations to the west of the beach. You might be surprised at the numerous varieties of fish that inhabit this coastline. The local restaurants testify to that.
As well as the beach and the water sports you will find there are plenty of other things to do close to Luz such as tennis, walking tours, horse riding to the more extreme sports such as quad biking, rock climbing and microlighting. There are also a couple health spas and fitness centres located in the resort complexes.


"

.....an increasingly excellent choice of restaurants serving typically traditional Portuguese dishes to fine international cuisine....

"


- 02 April 2004Algarve golfing is legendary and there are several well known championship standard golf courses close by which makes Luz an ideal base for golfers 'on tour'. Both Boavista and Palmares courses are within a ten minute drive and are perfect examples of the high standards to be found at all of the courses.
Sightseeing, especially if you have your own transport, is recommended especially if you head westward toward Sagres ( 'the end of the world' ) and the west coast generally provides some spectacular scenery. There are also plenty of day coach excursions to be had from the numerous travel agents.
The already substantial number of restaurants and bars continues to grow each year so there will be no problem finding somewhere different to visit every night if you choose to, without ever having to leave Luz. There is an excellent mixture of restaurants from tourist and international to traditional Portuguese, whether you are eating in or using one of the take away services. It is worth remembering that if you are dining out booking a table is always recommended during the summer months.
For those of you who are self catering there are several good supermarkets in Luz and several hypermarkets in nearby Lagos. Luz also has a good mixture of shops and boutiques as well as a medical centre and pharmacy.




The town is fairly compact and most everywhere is is a short walk, but will entail more often than not negotiating some 'hilly' bits. There a basically four main roads in Praia da Luz, the Rua 1 de Maio ( also known as the Rua de Espiche ) running north to south from the E.N.125 Sagres / Lagos road to main square and the church, ( which is effectively the town centre ). The Rua de 25 Abril running West from the church up the fairly steep hill to the newer villa developments and also the road to Burgau. Then there is the Rua Direita running East from the church ( the main street ) which is the 'old' road out of the town joining the same EN 125 but nearer to Lagos. The Av. dos Pescadores runs south from the square past the church and the fort for a short distance and leads into the fairly new promenade running from just below the church, along the sea front to the main beach area. There are extensive villa and apartment developments in progress to the west of the town at the top of the hill on the Rua 25 de Avril, but sufficiently far enough away not to be too intrusive and as of the end of 2006 sufficiently completed to not be that much of an eyesore anymore.




A brief description of some of the towns and villages close to Praia da Luz. More details of facilities, bars and restaurants can be found on the Nearby Places ( A - L ) or ( M - Z ) pages.


a larger historic town is just 10 minutes east of Praia da Luz. It has plenty of shopping, a pretty good night life, and a large established marina. It is definitely the place to go if you want a change from the relative peace and quiet of Luz. Try the bus service from the town square in Luz for a quick and cheap trip, but it will be a taxi home if you are out for the night, as the buses finish quite early.


10 minutes drive west of Luz, is another old fishing village, overlooking a small bay and sandy beach, with a good beach bar. Relatively unspoilt by tourism ( protected by a conservation order to retain its character ). It has some good restaurants and bars. Built on a hillside, Burgau's old fishermen's houses line (steep) cobbled streets leading to the bay, beautiful sandy beach and the still active fishing fleet.


"

.....fine beaches and excellent golf to be had right on the doorstep ....

"


- 02 April 2004

a village on the main N125, with roads that lead south to Praia da Luz, and north to Barão de São João. A typical Portuguese village. The part facing the main road looks fairly modern and the roads are well made but go one row of houses back and the roads revert to old cobble style and are murderously narrow in parts. If you go into the village, rather than just by-passing it on the main road, you will find a few restaurants and bars, a supermarket and a couple of newsagents.


approximately 19km west on the main road ( N125 ) from Lagos towards Sagres. This fishing village situated in a broad cove / beach, which has managed to retain it's character despite extensive building at the back of the village and on the cliffs. An active fishing fleet works out of here and a lot of the fish is used by the villages restaurants. A sandy beach on the western side of the village is protected by cliffs. Boca do Rio and Ponta de Almadena beaches nearby


If you fancy a change there are plenty of beaches within minutes of Luz, such as Boca do Rio, Meia Praia, Praia da Almâdena, Praia da Batata, Praia do Burgau, Praia do Canavial, Praia da Dona Ana, Praia da Figueira, Praia de Porto de Mós, Praia da Salema. See the Beaches page for more details.




There are two major nature reserves, one covering most of the West. The Parque Natural da Ria Formosa, extending from Faro to the Guadiana and Spanish border, and close by to Luz the Parque Natural do Sudoeste Alentejano e da Costa Vicentina, which begins in the corner of the Alentejo above the Algarve, but extends down its Atlantic coast and turns around the Cabo de São Vicente to Sagres then runs back east towards Lagos, some 150km in total. It is the latter that manages to preserve the essence of the 'pre-tourist' Algarve with plenty of open land, heavily wooded areas, impressive mountains and valleys and miles of unspoilt seashore.



"

.....an ambitious but very welcome programme of town improvements is now well under way....

"


- 01 January 2008

The ambitious, but welcome major project of works programmed for 2007 / 8 is now well on its way. Scheduled in two phases, Phase 1 - February 15th to July 15th is now completed. It has resulted in a considerable improvement to the centre of town. Phase 2 - from September 15th is currently underway. The project encompasses major road improvements and extensions to the one way system. Also, improved tourist facilities such as wider pavements and additional green spaces. Renovation and Water system improvements are also included. It did have some impact on tourism during the summer months as various roads were closed, dug up, re-routed. Pavements have been replaced and widened. There was also the inevitable dust element whilst the works were in progress. Fortunately there was a break between phases for the peak of the tourist season. Whilst the works are necessary evil they only make Praia da Luz even more enjoyable for both residents and visitors alike.