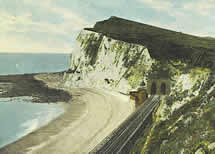 An old print of Shakespeare Cliff

These pages contain photographs of my various trips to Dover. In all the years I lived there I never took any photographs, its only since I moved away (about 40 years ago!) that I wish I had. Anyway, on my infrequent visits to see friends I'm trying to make amends.
Next time you plan to take a ferry, allow some time out and look around the neighbourhood. At least see the castle or go up on to the cliffs and see the fantastic views. There is some serious history in this part of the country and the Dover Tourist Board have done a pretty good job of showing you where to find it.


Google Map of Guston and Dover locations.